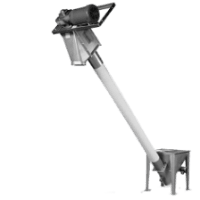 Genesis Process Solutions now offer a multitude of screw conveyors to service the UK & Ireland market place. Due to issues in the past with other UK suppliers of screw conveying equipment, we noticed that there was room for another supplier but one who is very flexible to adapt to the market place in terms of quality, price and delivery times.
The screw conveyors on offer include single screw tubular and trough type conveyors, twin screw dischargers and multi screw dischargers for incredibly poor flowing materials.
The screw conveyors are suitable for all industries, with contact materials ranging from painted mild steel, stainless steel ( including special grades for abrasive materials ), with finishes to suit - for example, a food finish.
ATEX certification is also available as standard.
All motors and bearings are off the shelf from UK suppliers so this eliminates and fears of waiting for spare parts from foreign suppliers.
Need help finding the right product for your process?