LIFTVRAC, based near Nantes, France were formed back in 2008 by Marcel Boursier, a conveyor belt manufacturing specialist. The concept of the LIFTVRAC conveyor is simply brilliant, a flat belt forms a tube to convey materials to an elevated height and then becomes a flat belt again.
The main advantages of this are that the belt stays perfectly clean, whilst being able to handling the most sticky, wet, fragile, non flowing of products, all without damage to the product and with very little power consumption - and most importantly - WITHOUT PRODUCT LOSS !
Mostly used in the food industry, the conveyor is perfect for filling mixers, hoppers, multi-head weighers, basically anywhere that a product needs to be elevated.
The conveyor is available in 3 models, a type S, type C and type J - all named from the shape they come in.
For more information please click below; PDF Brochures are also available.
How the Liftvrac Conveyor Works
The concept of the LIFTVRAC conveyor is brilliant in it's simplicity. A flat belt is formed in to a tube as it is running and product is conveyed in the tube, using it's own weight to form the bridge effect that prevents it from falling back. This means that product is conveyed without compaction, damage or change in form - meaning it leaves the conveyor in the same condition as it goes in. The other huge benefit is no product loss. All product that enters the tube will come out at the top and due to an award winning flexible scraper on the outlet, product will always leave the conveyor and on to the next process. No product will stick to the belt due to the scraper and therefore no product loss.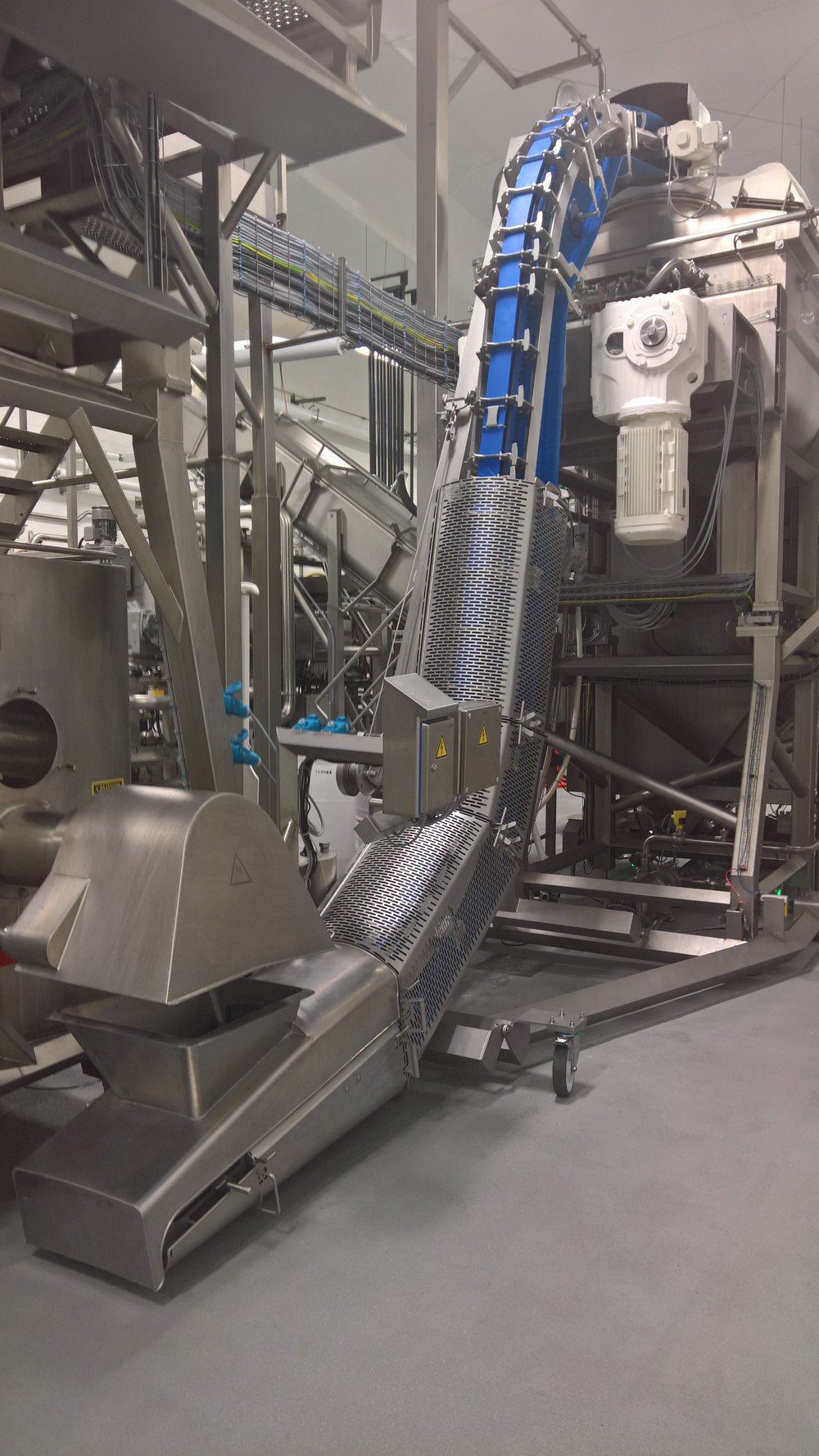 Benefits of the Liftvrac Conveyor
Space Saving
Liftvrac offers you the opportunity to elevate your products at virtually 90degrees, even the most delicate of products, using the specially designed polyurethane belt which forms a tube around the product
Reduces Product Losses
With the belt being completely smooth, there is nowhere for any product to hang up or stick, unlike conventional cleated belts, bucket elevators, screw conveyors, bin tippers, pneumatic conveying systems. Also, at the exit point for the product from the belt, a flexible scraper is fitted meaning all product leaves the belt at this point - what goes in, comes out.
Care For Your Product
All products, even the most delicate, are handled with care as the polyurethane belt envelops the product, not squeezing it, the product holds itself in the tube with the following flow of product. Grated cheese, minced meat, cubed ham, feta cheese, fruit, noodles plus many more all leave the belt in the same condition as they enter it.
Easy and Quick Cleaning
As the belt is cleaned by the flexible scraper, the belt needs very little cleaning. It is easy to clean the belt with water / alcohol wipes from ground level while the belt runs empty. Alternatively, thanks to a tool free operation, the belt can be quickly removed and cleaned away from production areas. To remove and then fit the belt only takes around 5 minutes, ensuring a very quick and efficient cleandown.
Low Energy Consumption
Due to the very free working design of the liftvrac, only small motors are required for operation. Depending on the Type and distance, most motors range from 0.5kW - 1.5kW. When compared to pneumatic conveying systems, the cost savings on energy are huge.
Adaptable to Any Configuration
Due to the modular design of the Liftvrac, we are able to design a conveyor to suit your on site requirements. This modular design means that replacing existing systems is much easier than most alternative conveyors.
Snack food, ready meals and multi-head weighing
FOUR reasons to choose LIFTVRAC to feed your weighers
Manual feeding, bin tippers, cleated belt conveyors, screw conveyors, bucket elevators and pneumatic systems are methods most usually used to feed weighers for the manufacturing of snacks and ready meals. However, LIFTVRAC offers a new alternative for the industry offering numerous advantages with this unique product.
1) Lift any kind of product
The system designed by LIFTVRAC allows one single piece of equipment to lift any kind of product : spices, herbs, salad, tomato sauce, diced cheese and meat, seafood, vegetables, mashed potatoes, dough…..
Products can be lifted hot, cold or frozen, with zero damage to the product.
The LIFTVRAC is so versatile, it can replace multiple conveyors by being able to handle most products.
2) Reduce Product Losses
All standard conveying systems generate raw material losses in one way another. Whether it's product sticking to cleated belts, buckets / bins or in pipework, all material that is lost comes straight off your profits. The LIFTVRAC has virtually no product losses due it's innovative design and belt scraper ensuring what goes in, always comes out.
3) Increase Productivity
Unlike Bin tippers, the LIFTVRAC continuously feeds the dispensing systems all from low level ensuring a greater production rate. The LIFTVRAC also gives a greater flexibility with throughputs whether great or small due to being on an inverter, meaning various throughput rates can be achieved with one system. With this in mind, it means it does not need to be oversized to cope with future demands unlike other conveying systems.
4) Simplify Cleaning Operations
One reason why the LIFTVRAC is so easy to clean is that is virtually clean when running in m=normal operation. The flexible belt scraper that is fixed at the exit point for the product works so well that is cleans the belt as it is running.
At the end of the production run, a cylindrical bung can be placed in to the LIFTVRAC to ensure the last of the product is emptied ensuring 100% of the product is used.
The conveyor can then be washed down, ready for use on a different product or another production run.
Other conveyors are predominantly difficult to clean with very little access to buckets, screws, conveying pipes.
Powdered and Fluid Materials
A More efficient, thrifty and easier to clean system than pneumatic conveying systems.
A tube perfectly sealed which accompanies your products
The revolutionary conveying system of the LIFTVRAC consists of a polyurethane belt which forms a tube around the product which holds it during the elevation.
For powders and products <3mm in diameter, the sealing of the tube is done via a lip on the belt which closes the belt during the elevation. This means that powders remain within the tube and not open to atmosphere meaning products that get affected via heat and humidity can be handled without a problem - unlike pneumatic systems that introduce heat and friction during conveying.
Impressive elevations
The LIFTVRAC does not need air to elevate your products. Thanks to a higher density of product within the tube, the LIFTVRAC can achieve conveying rates far higher than blowing or vacuum systems, with a much lower energy consumption due to a small motor in comparison. The LIFTVRAC, depending on the elevated distance and shape can achieve up to 18m³/hr
No blocking
One common issue with pneumatic conveying systems is blocking of product lines due to the incorrect sizing of pumps, flooding of materials or issues with air intake. With the LIFTVRAC system the belt is opened and scraped continuously making it self-cleaning. What goes in, always comes out.
The LIFTVRAC was born out of a research into existing conveying principals and the requirement for maximum efficiency in the elevation of bulk materials whilst encouraging a simpler solution in cleaning and dismantling for operators.
The same principal is exerted with all ancillary equipment currently offered with the LIFTVRAC.
Some of the peripheral equipment is detailed below but due to integration of more and more equipment, continuous development is taking place so if there is a specific requirement for your company, please feel free to contact us.
Safety Guards
Unlike safety cages or light curtains which are usually custom built and costly solutions, the LIFTVRAC conveyor has unique safety casings which integrate to each part of the modular system.
The quick release casings simply click into place with quick release handles in only a few seconds. Each casing has a safety switch so they completely safe under the machinery directive.
In-feed Hopper
The in-feed hopper of the LIFTVRAC is just as important as the belt itself. The design of this hopper is so critical as this is where we ensure the correct flow of product into the tube. The in-feed hopper is also on a quick release fixing meaning that cleaning is so quick and easy. The standard in-feed hopper has an adjustable gate to control the product flow, sealing for fluid products, quick release clamps.
We recognize that the LIFTVRAC is a very new and innovative product for the UK market. Therefore we have purchased a TYPE S conveyor in order to demonstrate the unit either at Genesis' test facility in Sandbach, Cheshire or actually at customers production sites.
So far we have carried out numerous tests on site and have yet to find a product that we can't convey in a better way than already on site equipment.
Costs for on-site trials depend on location, length of trial and products being handled but ALL costs are refunded should a new LIFTVRAC conveyor be purchased.
We promote on site trials wherever possible as it allows the customer to see in real time how the LIFTVRAC can benefit their company and also allows operators the chance to see how easy the LIFTVRAC is to work with and to clean.
To arrange an initial site visit by a member of staff or to organize a product trial, please click here to contact us OR call us on 01270 766300.
Need help finding the right product for your process?