Prop-flow flake discharger takes off for Genesis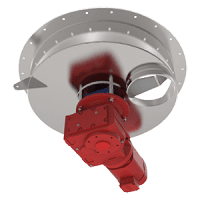 Cheshire based machinery supplier Genesis Process Solutions Ltd are looking to carry on where they left off last year thanks to their new product, PROP-FLOW.
The Genesis PROP-FLOW has been designed specifically for discharging flake and regrind from silos and hoppers.
As there is an increasing amount of pressure on customers to use more recycled & reclaimed material, the requirement for better handling systems has increased as well.
Flake and regrind material are both very abrasive and in most cases, poor flowing. Whilst the products can be conveyed, they don't flow well from hoppers and silos due to the nature of the product wanting to interlace and interlock together.
So a solution was required for hoppers and silos and after a long design process, the Prop-Flow range was born. The principal is simple, a flat bottomed discharger that uses a rotating blade - similar to that of a propeller - to move the material to an outlet whilst keeping the other material around it moving at the same time. The propeller causes a positive product displacement whilst the cone prevents any bridging in the centre of the Prop-Flow where there would normally be a dead spot.
The Prop-Flow range consists of four sizes starting from 600mm diameter, going up to a 1,200mm diameter unit for larger silos. All PROP-FLOW dischargers are fitted with high torque motors to cope with the pressure of the material sitting above the unit and have the option of inverter control.
Whilst the 600mm diameter unit comes with a single, 200mm diameter outlet, the larger units can have larger outlet diameters and multiple outlets too.
The PROP-FLOW range is available in both painted mild steel and stainless steel.
The PROP-FLOW range can be retro-fitted to existing hoppers and silos as well as new installations. When combined with Genesis' flexible fabric silos they are the perfect solution.
For more information please contact Phil Cameron on 01270 766300.