Feeding solutions for recycling plastic fibres
Recycling of PET bottles is now part of all of our normal day-to-day life and has become part of our climate-conscious society. In some countries as much as 94 percent of all PET beverage bottles are already being recycled and there is also a clear trend towards the increasing use of recycled material: A PET bottle today already consists of an average of 30 percent recycled material, the rPET.
How we deal with plastic waste is seen as a decisive factor in protecting our blue planet's climate. The goal is to use plastic in a variety of ways and for a longer period in its various applications. To this end, as much as possible of the valuable secondary raw materials created from plastic waste must be kept in the material cycle.
Further processing is often difficult because of the often challenging flow properties of recovered plastic fibres. Brabender Technologie offers a feeding concept tailored to the respective material properties for every recycling task - for example, the processing of ground PET flakes into recycled rPET.
Which plastic fibres are suitable for recycling?
Recycling for textile fabrics such as carpets is less common. In the European Union, for example, an estimated 1.6 million tons of carpet are disposed of every year. Around 95 percent of it ends up either in landfills or in the incineration plant. Old carpets contain high-quality plastic fibers such as polyamide (PA) or polypropylene (PP), which are ideal for recycling. Old carpets or carpet scraps made of PA, which consist of the textured continuous carpet yarn BCF (Bulk Continuous Filament), can either be chemically processed into polyamide as raw materials or further processed into secondary plastics. For this purpose, the PA carpets are sorted and shredded according to their fiber components PA6 or PA 6.6.
Recycling used tires is also worthwhile. For ecological reasons alone, old tires should never be simply disposed of. They consist of rubber, fillers such as soot, silica and carbon, plasticizers and reinforcements such as steel and nylon as well as other chemicals such as sulphur.
The recycling of old tires generates pure rubber powder which can be used in the manufacture of new products such as insulation materials, roads, floor coverings, rubber mats or new tires. Old tires also contain fabric fibres such as polyester and polyamide fibres. They can be extracted by suction when the tyres are being chopped and ground down. Then they serve as reinforcing or fillers for new polymer mixtures in the extruder. With the addition of additives, they can be processed into fibre-reinforced polymer compounds.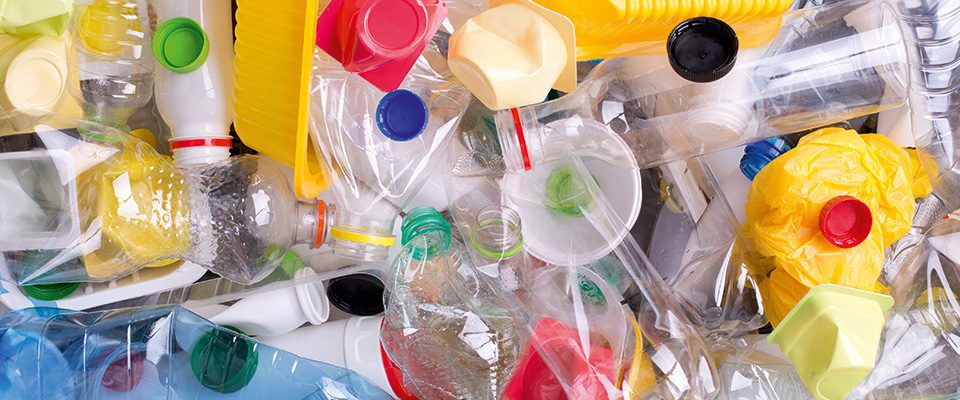 Beverage cartons are also made of valuable raw materials, a combination of cardboard, plastic and often aluminium (PE-Alu). Reprocessing recovers cellulose fibres which have a significantly longer fibre length and better strength properties than most other waste paper and are therefore particularly suitable for the production of stable corrugated cardboard packaging.
In the so-called Palurec process, the remaining PE-aluminium foil residues and closures are separated in a zigzag sifter, because of their inconsistent 'particle' size, poor flow properties and tendency to form strong bridges. No good prerequisites for the further processing of LDPE, a soft polyethylene  (low-density polyethylene) is currently available.
Speical Feeders for Recycled Materials
Materials, such as rubber granulate, have already been prepared in such a way that a universal feeding device such as the FlexWall ® can be used to feed them into the process.
Others are trickier and need a feeder specially tailored to cope with the material's properties. Continuously increasing demand for feeders capable of processing plastic fibres triggered Brabender Technologie to come up with an innovative solution.
Trend-setting processes and devices for the recycling process have emerged from these new ideas. For example the fibre feeder FX225 is particularly suitable for dispensing irregular plastic fibres of different lengths that can easily get caught in a regular feeder. Examples of materials it can handle include plastic fibres from textile fabrics, the textile offcut fibre edges from the weaving process or silicone-coated textile fabrics.
The FiberXpert feeds the recovered raw material into a twin-screw extruder for granulation. Co-rotating conical twin screws ensure good melting behaviour and the high quality of the granulated plastic. With its large intake area, optional tamping unit and a high feeding capacity of 1,000 kilograms per hour, the FX225 is the ideal for challenging dosing tasks.
With the special FX225 fibre feeder, Brabender Technologie contributes to a high-quality recycling management system.
Further Information on Feeding Recycled Materials
Please contact our team with any questions you may have about improving the feeding of your recycled materials and download our brochure for further technical information on Flexwall® and other Brabender volumetric and gravimetric feeders.