Biffa Polymers Increase Storage Capacity with Flexible Silos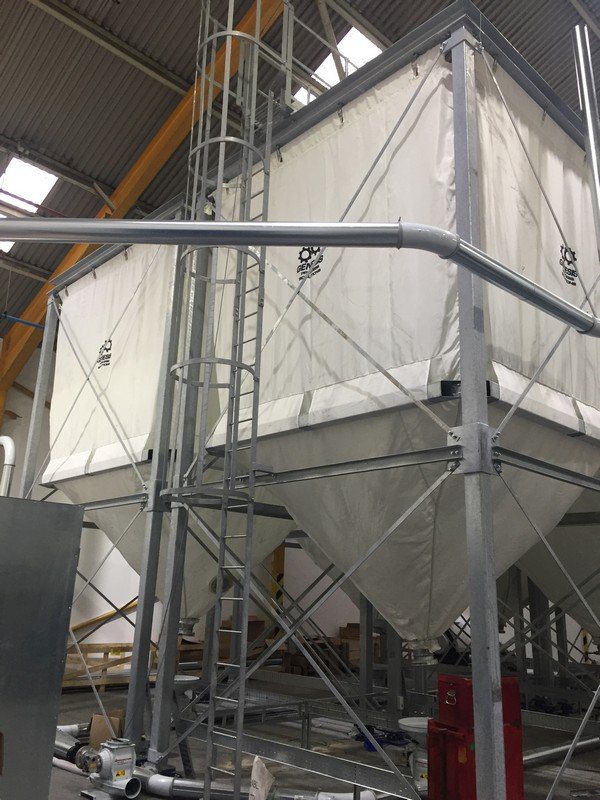 At their Redcar site where, in 2008, Biffa Polymers constructed the world's first commercially viable HDPE food grade production plant, the company is processing around 22,000 tonnes of product from recycled milk bottles.
In 2008 when the facility was opened, Biffa project managers chose to install seven, Krause flexible silos. The decision to install flexible silos was taken because of difficulties in planning regulations governing external silos and, of course, the convenience of internal bulk storage.
Genesis Process Solutions were awarded the Krause agency for the UK and Ireland in 2008 and have worked with Biffa to make some modifications to the existing silos to improve the day to day running.
In June 2016, Biffa Polymers were looking at extending their process due to high demand and contacted Genesis to talk about six new internal silos. Biffa had to complete a new factory extension to accommodate a new production line and the silos were to be part of this new line.
In January, 2017, the installation was completed. Each silo measures 3.8m x 3.8m x 6.7m high and has a capacity of approximately 28 tonnes. All silos are manufactured from a breathable, anti-static, high tenacity, woven polyester and are suspended from galvanised steel frames which are mounted on load cells, linked to a universal load cell HMI display. A ladder and gantry system is also part of the supply in order to give engineers access to equipment on top of the silos.
Martin Brass is the Engineering Project Manager for Biffa at the Wilton International site: "With our knowledge of the original flexible silo system installed eight years ago, opting for a new bulk storage system based on Flexible silos was one of the easiest decisions that we needed to make."
Tom Weston, Sales Engineer for Genesis Process Solutions said "we were given the task of designing the silos to fit the proposed new building, not only to accommodate the capacity request but also the gantry system required above. Working closely with Biffa Polymers, we delivered on time and in budget"
Krause Flexible Silos are made to fit the available space and are available from 1 tonne to 50 tonnes capacity. For more information please contact Tom Weston or Phil Cameron on 01270 766300.